A Christmas Spectacular "YOLKA"- by the St. Sergius of Radonezh Russian School at the Tolstoy Foundation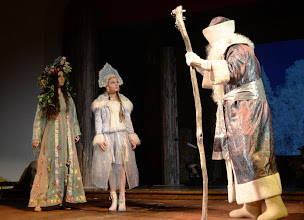 The St. Sergius of Radonezh Russian School held its annual Christmas Spectacular – "Yolka" on Sunday, January 22, 2017. This year's staged
play was "Snow Maiden" ("Snegurochka") which was performed by approximately 60 students, under the direction of Irina Alexandrovna Tarrant. After the play, a large Christmas Tree was centered in the hall and the children, along with their families, awaited the arrival of "St.
Nicholas ("Ded Moroz"). Christmas carols and songs were sung.
The audience of approximately 250 people included Archbishops Andronik and Sofroniy, as well as other clergymen from our diocese and from
Russia.
All the young participants received a gift and the everyone was treated to a great buffet.
The entire school staff did a wonderful job! Our youngsters were once again excited to celebrate Christmas.
This year the school celebrates its 10th anniversary! (September of 2007)