First Sunday of Great Lent – Triumph of Orthodoxy and the Elevation of Priest Ilya Gan to Protopriest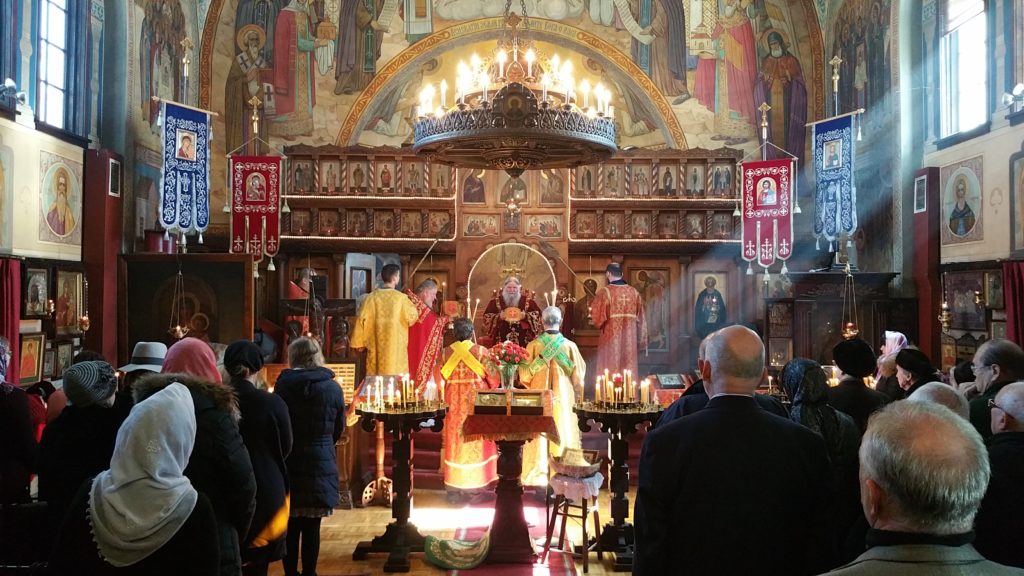 On Sunday, March 5th 2017, at the Church of St. Sergius of Radonezh at the Tolstoy Foundation in Valley Cottage, Archbishop of Syracuse and St. Nicholas Andronik, lead the Divine Liturgy on the first Sunday of Great Lent – The Triumph of Orthodoxy. During the Small Entrance Priest Ilya Gan was elevated to the rank of Protopriest for his many years of service to the Church. Also partaking in the service were: the rector miterd protopriest Gregory Kotlaroff, protopiest Ilya Gan, reverend Victor Zavodov and hierodeacon Paul Lipin.
The sermon on the feast day was read by vladika Andronik from the homilies given by the once abbot of the monastery in Jordanville, Archbishop Averky.
Immediately after the Divine Liturgy, the rite of Anathema began, in which the Orthodox Church does not condemn anyone (sometimes incorrectly interpreted) but rather lays out the truth of Christ since anathematized doctrines are contrary to Orthodoxy. In this manner the flock is thus protected by knowing what is acceptable and what is not acceptable to Christ. Almost 100 years ago, the Russia Church Abroad included into the rite the godless regime that persecuted and brought destruction to the Russian Orthodox Church.