Account of the Concelebration of May 14, 2017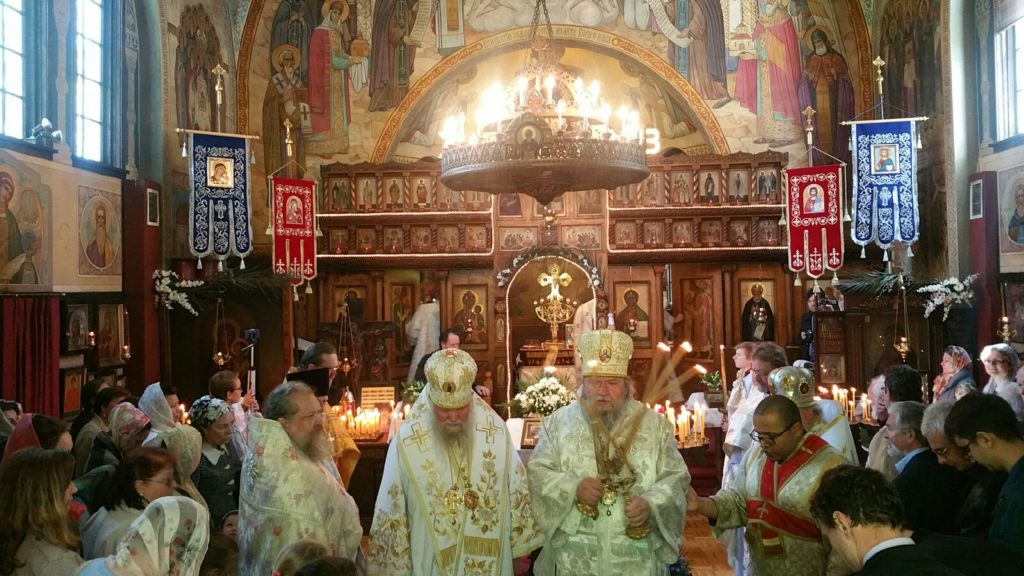 On the Sunday of the Samaritan Woman (May 14, 2017) in the Church of St. Sergius of Radonezh in Valley Cottage, New York, the Divine Liturgy was concelebrated by two hierarchs of the Russian Orthodox Church Outside of Russia, Archbishop Andronik (Kotliaroff) of Syracuse and St. Nicholas and Bishop Stefan (Sabelnik) of Trenton and North American in collaboration with the clergy of both dioceses.
Present from the Syracuse Diocese were the clergy: Mitred Protopresbyter Gregory Kotlaroff, Protopresbyter Nikita Grigoriev, Protopresbyter Ilya Gan, Priest Viktor Zavodov, and Arch-hierodeacon Pavel Lipin; and those from the Trenton Diocese were: Mitred Protopresbyter Sergey Klestov, Protopresbyter George Tsap, and Hieromonk Joseph Chotkovsky.
At the Small Entrance, Protopresbyter Nikita, was awarded the right to wear a pectoral Cross with ornaments for his many years of zealous service to the Church.
The church was filled with believers for the holy day. An especially prayerful state and reverence for the Holy Mystery was created and supported by a remarkable choir under the direction of Mark Kotlaroff. It was noted by all that the choristers made the hymns bright and memorable, and at the same time performing them in a strictly ecclesiastical prayerful tradition.
After the Liturgy, Vladyka Stefan preached the sermon, and then led a procession with the Cross around the church with the singing of the Easter Canon and the Moleben for beginning a good deed. In addition, the warm, sunny weather contributed to uplifting the spirits of all those present even further.
At the end of the Divine Service, all who could went to the nearby banquet hall at "Otrada" cultural center, where a fine meal was arranged by the parishioners and the sisterhood. There positive speeches and best wishes were given for all those present. All dispersed with a strong desire to continue such a joyous association with their spiritual fathers and brothers in the future. May God grant that our desires be fulfilled for the benefit of the Holy Church of Christ!