Pilgrimage to Mountainview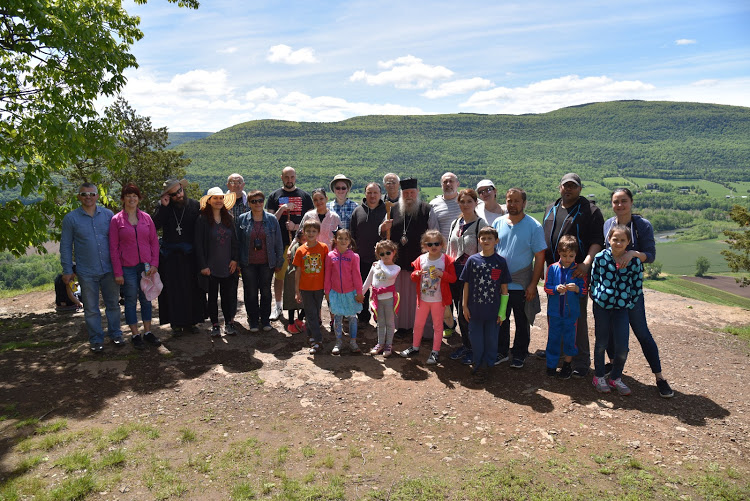 On May 27-29, 2017, the parishioners of Holy Trinity Church in Astoria organized a pilgrimage to the spiritual and educational center at Mountain View. They were joined by parishioners from the church of St. Sergius of Radonezh in Valley Cottage and friends from Syracuse.
The weather turned out to be suitable for various events, in which children and adults participated alike.
The pilgrims began with a hike into the mountains, where with a bird's eye view they looked out over the terrain that opened before them. Fans of fishing went fishing, others could swim in the lake from a boat and inspect its hidden corners.
Many went to the local caves which have lakes, where, they tell us, "we were chilled to the bone"!
A conversation was organized with the author of a history book about the locale where the spiritual and educational center is located. Many interesting facts were collected and reported to us by the writer.
There was also a pre-planned soccer match, in which the teams from Holy Trinity and St. Sergius competed against each other. The victory of the Astorians became an occasion for a friendly discussion at the evening bonfire of the most crucial moments of the game.
On Saturday, a panikhida was performed followed by the Vigil. On Sunday, Vladyka Andronik celebrated the Divine Liturgy in collaboration with Priest Dimitry Dobronravov, rector of the Church of the Holy Trinity from Astoria.
As is customary in America, on the day of the National Memorial Day, a traditional barbecue was also held.
Pilgrims did not miss the opportunity to taste natural (and unprocessed!) foods: incomparably tasty local eggs, goat's milk and goat's cheese.
All had a wonderful, unforgettable time, enjoyed the beauties of this region and fellowship with each other. There was no person who did not feel the uniqueness of a place that brought the pilgrims spiritual contentment and so much rest for the physical body.