A Remarkable Event at the Spiritual and Educational Center in Mountain View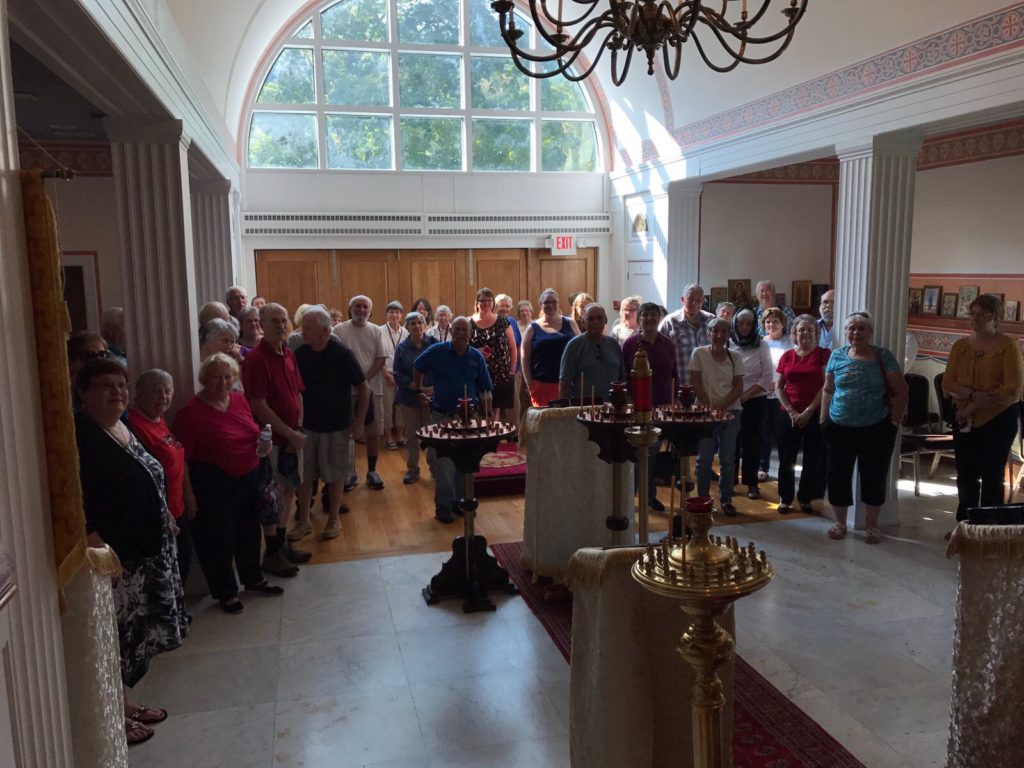 A remarkable event occurred at the Mountain View Spiritual and Educational Center last Sunday, September 17, 2017. Nearly 70 American residents from neighboring towns gathered in our spiritual center for a book presentation written by local historian Karen Cuccinello. The book, published so far regrettably only in English, tells of the more than century-old history of a place where various institutions, such as a school, a Roman Catholic theological seminary and a home for the elderly, once were located. Now our spiritual and educational center of Mountain View is located here, where members of a small monastic community live permanently and is the residence of the diocesan bishop Archbishop Andronik. All the guests could view the spiritual center and, of course, our beautiful church, where the painting of the remarkable iconographer monk Feofan (Jensen) is ongoing, who is in the tradition of Jordanville icon painting and the direct pupil of Bishop Andrei (Erastov), now conducting his archpastoral ministry in distant Australia.
The chairman of the board of our spiritual center, Georgy G. Lukin, told the guests that for several years conferences have been organized by the center which included the Orthodox Youth Conference and the Orthodox Family Conference, in which people from all over the world participate. This year they were supplemented, with great success, by an Orthodox Children's camp which was organized by the ROCA Assistance Fund. Also at the end of this October, the Iveron Icon Choral Conference is scheduled to be held, which we hope will be another valuable annual event for both Mountain View and the entire Russian Orthodox Church Outside of Russia.
In concluding this brief review, I would like to especially note that the presentation and reception of guests at our spiritual center is evidence that the purpose of Mountain View is not only spiritual work with members of the Russian Church Abroad, but also educational activities among local residents, who in turn have a genuinely keen interest in the life of Russian Orthodox living outside their suffering Fatherland. Many were interested in the information that once a month we have divine services in English in the church and God grant that the example of our Christian life brings to the quiet harbor of the true Church of Christ at least one of the great number of souls immersed in the waves of the stormy seas of everyday life!!
The doors of the Mountain View Spiritual and Educational Center are open to all who seek God, and in its efforts to enlighten we trust in the truth of the words of the Apostle James: "Brother, if any one of you err from the path of truth, and one convert him, let him know, that he that converteth a sinner from the delusion of his way, will save a soul from death, and cover a multitude of sins."(Ja. 5:19-20)
translated by rocana.org