Patronal Feast of the Mission Parish of St. Seraphim of Sarov, Toronto, Canada and Monastic Tonture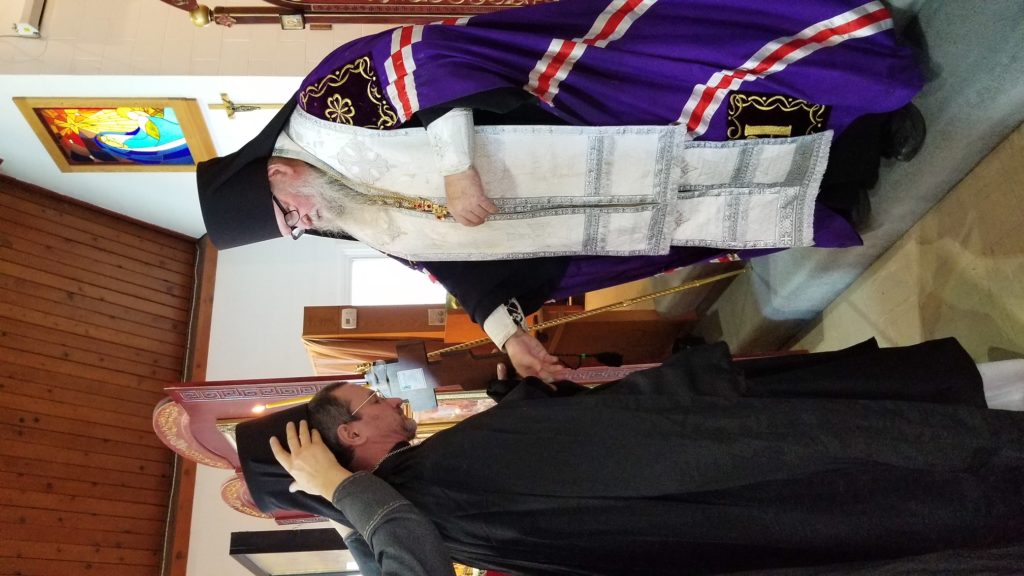 The Parish of our Venerable and God-bearing Father, St. Seraphim of Sarov the Wonderworker, located in Toronto, Canada, celebrated its patronal feast on January 14, 2017 (NS).
His Eminence, the Right Reverend Andronik, Archbishop of Syracuse and St. Nicholas, arrived to participate in the feast and was greeted by the rector of the parish, Hegumen Nestor (Mihaylechko).
Abp. Andronik served the Divine Liturgy on the feast day, which was marked by a special event; Fr. Alexander Krivoshlikov took his monastic vows and was given the name of Vasily. Many of us know the good father, and wish that he may continue to fervently and dutifully carry out his pastoral ministry, only now in the angelic habit of a monk! May God help our beloved Fr. Vasily!
Archbishop Andronik celebrated the Divine Liturgy of St. Basil the Great with Hieromonk Vasily (Krivoshlikov) and Fr. Viktor Zavodov. So many parishioners desired Communion that the rector, Hegumen Nestor, had barely enough time to confess all who wanted to partake of the Holy Mysteries of Christ.
It was a joy to hear the wonderfully harmonious and prayerful singing of the choir under the direction of Choir Director Olga Zorya, who was able in a short time to assemble a small but capable group of singers. By the way, the Servant of God Olga also celebrated her birthday on this day.
At the end of the service, the rector of the second ROCA church in Toronto, Fr. Nikita Grigoriev and Matushka Joanna arrived. During the trapeza, which the sisterhood of the parish graciously prepared, Fr. Nikita offered their warm congratulations to Abp. Andronik, the clergy and parishioners on the occasion of the Patronal Feast.
Archbishop Andronik departed that same evening for his residence, the Religious Educational Center in Mountain View, NY.