The Servant of God Anatoliy Nikolayevich Skok reposed in the Lord – an Announcement from the St. Xenia's parish and Obituary of the departed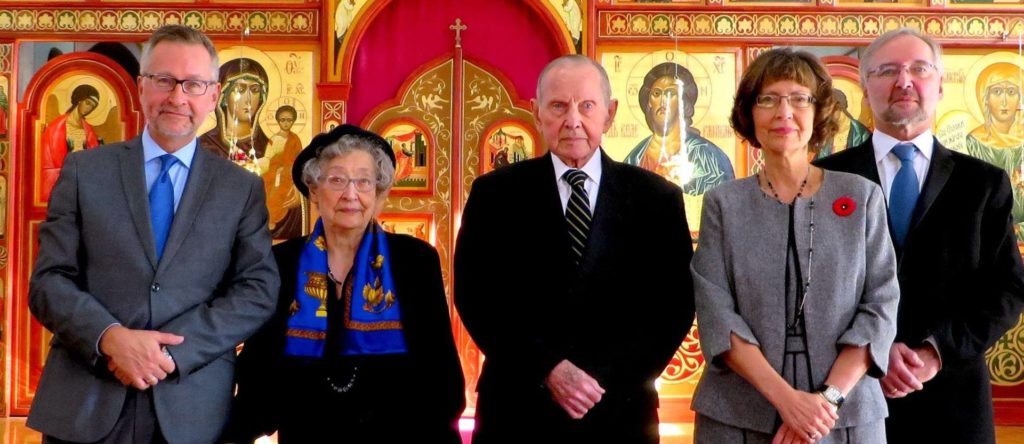 Announcement from the St. Xenia Parish:
Dear brothers and sisters in Christ!
This morning, the 28th of January, at the start of Divine Liturgy, our beloved, deeply respected, and greatly appreciated benefactor of our parish, God's servant Mr. Anatoly Nikolaevich Skok, passed away unto the Lord. Memory eternal.
Please join us in prayer for the repose of his soul. The following services will be conducted.
Panikhida – Tuesday January 30 at 7:00 pm at St. Xenia's cathedral
Funeral service (otpevanie)- Wednesday January 31 at 11:00 am at St. Xenia's cathedral
Memorial luncheon (pominki) – Wednesday January 31 at 12:30 pm in St. Xenia сathedral's parish hall
Fr. Oleg and the Parish Council
Obituary of the Departed
Anatol Skok, November 9, 1924 – January 28, 2018
Born in Poland in 1924, he leaves behind his beloved wife Elizabeth (née Korolkiewicz), their children Margaret, George (Alexandra Easson), and Vladimir (Anna Portoraro), their grandchildren Tanya Skok Hobbs, Nicolai Skok Hobbs (Alisa), and Adrian, Ilya (Kealey Dixon), Alexei (Angela) and Daniil, and his great-grandchildren Jack and Henry.
His education in Europe and in fact his whole way of life was interrupted by WW II. He served in the Polish Army and after that lived in Germany, working in the American Zone until 1949, when he and his fiancée Elizabeth emigrated to Canada and were married in Winnipeg. In 1962 he moved his family to Ottawa where he joined the RCMP as a civilian member, devoted to his service to Canada until retiring in 1986.
He and his spouse established a cottage lakefront retreat west of Ottawa in 1969, which was his "little bit of paradise on earth," loved by his successors to this day. Generations celebrated country life there, enjoying the small but important pleasures of fishing, mushroom and berry picking and swimming. He stressed that all of this was his legacy.
He always cut a dapper figure no matter where he went; he loved to dance, and he and Elizabeth as a couple were well known for hosting the best parties.
A devout member of the Russian Orthodox Church Abroad, he also supported scores of other parishes, monastic communities, church organizations as well as countless health-related charities. His most distinguished contribution, along with his spouse was funding the construction of St. Xenia's Church that opened in 1997 in Kanata.
After dedicating himself to providing for the care of his wife at their home, for the last two years of his life he was required to reside at the Bruyere-St. Vincent Hospital in Ottawa and then Garden Terrace in Kanata, joining his wife there. The family is grateful to Fr. Oleg, rector at St. Xenia's Church, his wife Olga and dear parishioners and staff who comforted him in his last days.
He treasured his faith, family and heritage, and had a deep and loyal love for Canada. He charged his children and their children with carrying on these commitments and good deeds.
Visitation and Memorial Service (Panikhida) on Tuesday, January 30, 2018 at 7 p.m. Funeral Wednesday, January 31st at 11:00 am, followed by a memorial luncheon (Pominki) St. Xenia Russian Orthodox Cathedral, 2 Colchester Square, Kanata, Ontario K2K 2W9.
In lieu of flowers, any donations to the Kanata Orthodox Church Foundation, established by Anatol and Elizabeth Skok, c/o 44 Craighurst Avenue, Toronto ON M4R 1J8, are appreciated. Gifts of $20 or more will receive a charitable tax receipt.