"On our differences with the Synod of Archbishop Kallinikos", article by bishop Andrei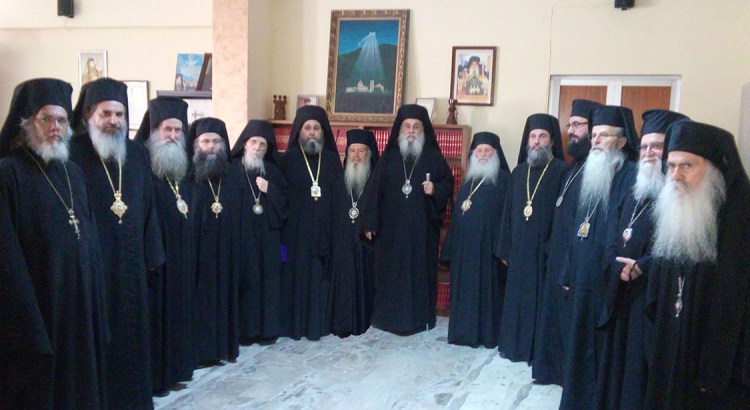 On our differences with the Synod of Archbishop Kallinikos
(This article reflects the author's personal opinion and may not coincide with the opinion of other bishops)
Our parishioners have repeatedly expressed their bewilderment as to why the Church of the Genuine Orthodox Christians of Greece under Archbishop Kallinikos has not issued an official document explaining their position in relation to our Church. Archbishop Andronik recently received a Letter addressed to him personally from the Synod of Abp. Kallinikos that makes their position clear.
This Letter is an attempt to persuade us to return to subordination under Metropolitan Agafangel. To this end, the Greek bishops advise us to resume negotiations with Met. Agafangel, hinting that they are ready to pressure the metropolitan to agree to terms that would be acceptable to us.
The Athenian bishops write that they were prompted to contact us by their desire to "express our pain and sorrow for the continuing division among…Hierarchs of the Russian Church Abroad." They add that "we all pray that there is a way out of this painful crisis as soon as possible."
At the same time, their Letter reproaches us for the fact that we "hastened…to accept in communion another bishop in America." But who is this "other bishop" with his flock? They are the same Russian people who for many years together with us have belonged to the same Church Abroad and who only as a result of the malicious actions of such personalities as Met. Agafangel and Abp. Tikhon, found themselves divided. In such an instance, why does our union with Bp. Stefan not please the bishops of the Athenian Synod, who pray for the unity of the ROCA? Obviously, because they consider the ROCA to consist only of Met. Agafangel's group with whom they are in communion, forgetting that the unification of the disparate parts of the Russian Church is the aspiration of all Russian people.
We have consistently maintained that the reason for our separation from Met. Agafangel was his canonical and moral violations. Despite this, the Athenian Synod inexplicably continues to argue that the issues that led to our separation are administrative. "All Bishops of our Holy Synod believe that the disagreement between you and the clergy of Met. Agafangel relate not to dogmatic, but administrative issues, for which it is quite possible to find a solution through dialogue."
The Athenian Letter insistently demands that we enter into a dialogue with Met. Agafangel, and in the case of our refusal, even threatens to consider us responsible for the division of the Church. So, in their view the main issue is that we refuse to negotiate with Met. Agafangel! But no matter how one negotiates with him, whatever conditions are proposed, he still must remain as our First Hierarch. This is exactly what is completely unacceptable to us. Archbishop Sofroniy's report at the January 2017 Council in Mountain View on "The Causes of the Profound Crisis in the ROCA" very clearly demonstrated that Met. Agafangel is not the shepherd of the Church, but her violator.
The Greek bishops are undoubtedly acquainted with Abp. Sofroniy's report as their Letter even quotes a phrase from the conclusion of the report. But for some reason, the Letter does not comment on the contents of the report, which in 20 pages with documentary citations, recounts Met. Agafangel's canonical and moral violations.
Is it not obvious that such a person cannot hold the position of First Hierarch? Nevertheless, the Synod of Abp. Kallinikos ignores Met. Agafangel's violations and demands that we return to his subordination, regardless of the moral qualities of this hierarch. The reason for this demand is simple: they "do not care what kind of person Met. Agafangel is," to quote the words Met. Photios said to me personally.
Obviously, they want a pretty picture: a single and unified ROCA consisting of the Synod of Met. Agafangel with whom they are in communion. The fact that this picture does not correspond in any way to reality does not bother them at all.
The Letter promises that if we agree to negotiate with Met. Agafangel, then the Athenian Synod "will continue to encourage Metropolitan Agafangel to refrain from taking disciplinary action against" us. Indeed, in October 2017, three Greek bishops, who attended the Council of Bishops meeting in Odessa, persuaded Met. Agafangel to not defrock our clergy.
We are grateful to them for their support, but we must note that the position of Abp. Kallinikos' Synod that, as in the past, we must remain in Met. Agafangel's jurisdiction is demeaning to us. We consider this position to be both insincere and insulting. The insincerity lies in that they must certainly understand that our separation from Met. Agafangel is final and irrevocable, that we will never return to his subordination, yet they continue to pretend that we are still in his jurisdiction.
The offensiveness in their attitude towards us lies in that while using words of friendship, in reality they demonstrate arrogance and disrespect. They say that they are not taking sides in this conflict, but they concelebrate with the clergy of Met. Agafangel but do not concelebrate with our clergy; they do not hear our statements, they do not respond to our official letters, and they do not even consider it necessary to notify us of their receipt. They ignore the decisions of our Councils, our unification with Bp. Stefan, and the formation of the Diaspora District. They have placed their signatures on a document the force of which declares us heretics and schismatics, and in this fashion, agree with the slander that Met. Agafangel has perpetuated against us. Even in this Letter, the slander is again repeated, i.e. that we allegedly teach that the Church is shattered into parts.
This Letter is addressed only to Abp. Andronik, but it is not a personal letter, as it poses questions requiring discussion by our entire Council of Bishops. However, Bp. Stefan and I are only mentioned in the Letter in a disapproving tone and it does not even give our names. The Athenian Synod has also somehow forgotten about our bishops in Russia, Abp. Sophroniy and Bp. Iriney. As a result, in its intent this Epistle is not only an insult to our Council of Bishops, but a provocation, meant to divide us.
At the end of the Athenian Letter there is the threat that if we refuse to negotiate with Met. Agafangel, the Greek bishops will consider us guilty of the separation that has taken place ("we will come to the conclusion that the burden of responsibility rests with the party that interrupted the effort to reconcile.")
But are they really behaving any differently now? On the whole, what other harm can they do to us that they have not already done? In fact, one could argue that it is not so much Met. Agafangel but rather the Athenian Synod that has produced a schism in our Church, as it is by virtue of their policies that we have lost many of our parishioners.
This stance by the Greek bishops is particularly ugly, if we recall that this episcopate owes its existence to the Church Abroad. We should especially remember Abp. Leontiy of Chile, who dared to perform consecrations in Greece without the permission of the ROCA Synod, and thus subjected himself to terrible canonical accountability, including potentially being defrocked. This was how a great hierarch and confessor acted. What a contrast with the current bishops!
When we separated from Met. Agafangel in September 2016, we believed that the Greek bishops would take our side because the truth was on our side. How naive we were! However, one can pose the question: could the Synod of Abp. Kallinikos have conducted themselves differently in this situation? They could have, if they had acted as shepherds who worked for the benefit of the church population. Conscience and the commandments of God are more important than the formal adherence to rules.
There is an example in contemporary church history of how to conduct oneself in a similar situation. In 1934, Met. Sergey (Stragorodskiy) imposed a ban on Met. Antoniy (Khrapovitskiy) and the hierarchs of his Synod, who were residing on the canonical territory of the Serbian patriarch Varnava. The patriarch, while maintaining communion with Met. Sergey, nevertheless ignored this prohibition and remained in communion with both sides. This is how the bishops of the Athenian Synod should conduct themselves. If they were unwilling to delve into the internal affairs of another Local Church, they, in any case, should have remained in communion with both sides.
There is a fairly significant group of former ROCA parishes that at different times transferred under the Greek omophorion. We have always maintained close communion with this group and we in fact consider ourselves to be one Church. Now, as a result of the position of the Synod of Abp. Kallinikos, this communion is being interrupted. And thus, our longtime friends are now furrowing their brows at us and are ceasing to correspond with us, as one would with schismatics and renegades.
Brothers, you have made a mistake leaving the Russian Church. According to your words, you hoped to gain peace and stability, but your unjustified flight was nothing but desertion. You showed yourselves indifferent to our struggle for truth in the church and could not understand the spiritual meaning of this struggle. This was a test of your ability to "discern spirits" (1John 4,1), the most necessary quality in our pre-antichrist time.
And what would happen if everyone followed your example? Then the Russian Church will disappear. The New Martyrs of Russia will not allow this.
Thus, this latest Letter from the Synod of Abp. Kallinikos has made completely clear that, which in fact, has been clear for some time: the Synod of Abp. Kallinikos has taken the side of Met. Agafangel.
Bishop Andrei