A Celebratory Sunday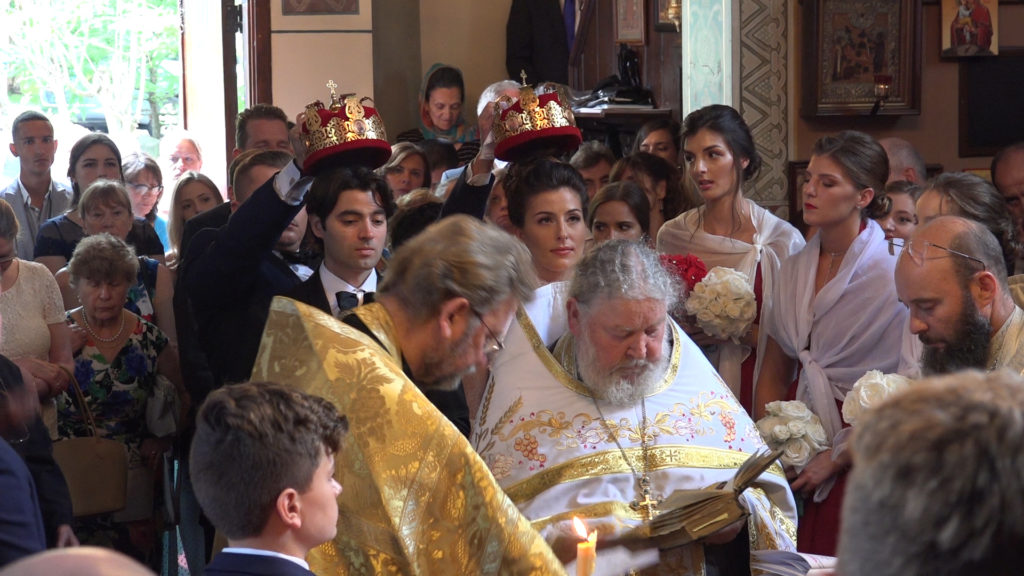 Sunday, September 2nd, 2018, was an especially festive day at the Church of St. Sergius
of Radonezh on the grounds of the Tolstoy Foundation. The day began in the morning with the
concelebration of the Divine Liturgy. The service was led by Archbishop Andronik of Syracuse
and St. Nicholas and by Archbishop Sofroniy of St. Petersburg and Northern Russia, in
concelebration with Archpriests Gregory Kotlaroff and Nikita Grigoriev and Hegumen Ignatiy
(Krutkov).
After the Liturgy, at 1pm, a joyful and much anticipated event took
place – the Wedding of Daniil and Ksenya. It should be noted that this wedding was preceded
by thorough and comprehensive preparation. In June 2018, during a pilgrimage to the Holy
Land, Archbishop Andronik performed the Sacrament of Baptism of Mario, with the baptismal
name of Daniil, in the waters of the river Jordan. The future couple, accompanied by relatives
and friends, then sought blessings for their marriage in Cana of Galilee, at the Holy Sepulcher
and in other holy places.
The Sacrament of Marriage was jointly performed by Mitered Archpriest Gregory
Kotlaroff, Archpriest Nikita Grigoriev and Priest Dmitry Dobronravov, in the presence of a large
group of worshipers gathered from different parts of the world. Both the requisite service by
our venerable priests and the magnificent singing of the choir were conducted in three
languages – Church Slavonic, English and Spanish. The particularly joyous and very touching
atmosphere in the church made this an unforgettable event. We wish Daniil and Ksenya great
family happiness, and "many, many years and many, many children", as Fr. Gregory expressed it
after the Marriage!