Funeral Service for Thomas Marino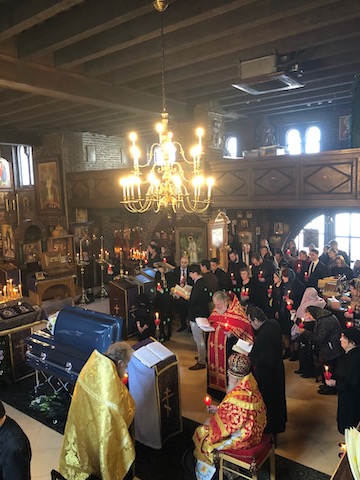 Funeral services for 11 year old Thomas Marino were held on Saturday, March 16, 2019, at the Church of the Holy Trinity in Astoria, NY. The service had a particular family feeling as diocesan clergy and friends of the deceased came together. The service was led by Archbishop Andronik of New York and North America and was concelebrated by Mitered Archpriest Gregory Kotlaroff, church rector Priest Dimitry Dobronravov, and Priest Viktor Zavodov. Although it was not planned, a men's choir gathered and sang the service for the newly reposed youth. The service was very peaceful and prayerful.
On Saturday morning many of Thomas' school friends and acquaintances came to the funeral home to pay their respects and to bring poems to their dear friend. Thomas' spiritual father, Archpriest Gregory, also came to the funeral home to serve a panikhida for the newly reposed before the trip to Holy Trinity Church.
After the burial at the Brooklyn cemetery, all who remained attended a post-funeral reception (pominki) to remember the newly reposed. Thomas' mother, Ksenia, commented on how smoothly and responsibly all of the arrangements had proceeded, particularly on the third and final day. At the reception, we were reminded of the words of our contemporary holy father, St. John of Shanghai and San Francisco, who after his death appeared to a believer and said, "although I have died, I am alive!" This instruction from Bishop John is relevant not only to the family of the deceased, but also to all of us who are only temporarily alive until our fateful day.
The Kingdom of Heaven for the dear young man!