Patronal Feast Day at the Church of St. Sergius of Radonezh in Valley Cottage, NY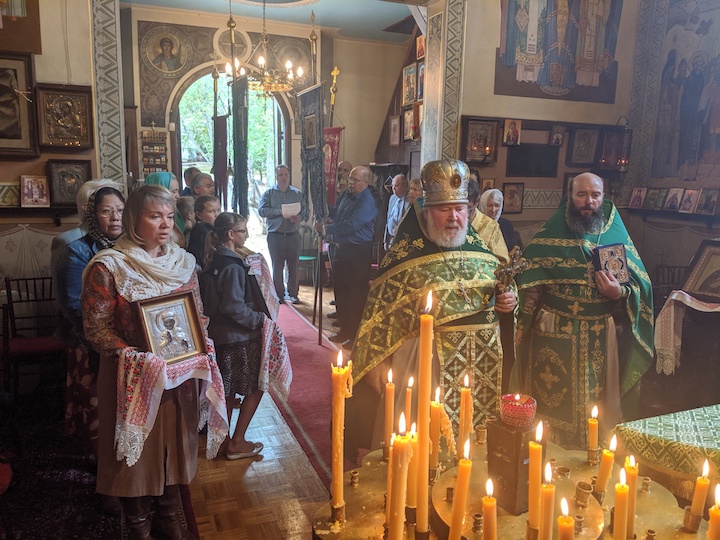 The Church of St. Sergius of Radonezh, which is located on the grounds of the Tolstoy Foundation in Valley Cottage, NY, celebrated the Feast Day of its patron saint on October 7-8, 2019.
The celebration began with the All-Night Vigil on October 7th, which was served by Mitered Archpriest Gregory Kotlaroff, the rector of the Church of St. Sergius, Hegumen Ignatiy (Krutkov), and by Fr. Dmitriy Dobronravov. The three clergymen also served the Divine Liturgy the following morning and the service was concluded with a Procession of the Cross. Many of the parish's children stayed home from school to participate in the celebration and received Holy Communion.
Hegumen Ignatiy offered the parishioners and guests a homily on the life and good works of St. Sergius.
The church services were followed by a sumptuous trapeza during which those who celebrate the patronal saint's namesday were feted. During the trapeza there were many imeninniki that were mentioned including Archpriest Sergei Klestov, the rector of the Church of the Holy Assumption in Richmond Hill, NY, Sergei Tregubov, the St. Sergius parish's retired, long time church warden (starosta), and many others.
The occasion of the patronal Feast Day also marked the passing of the torch from one Senior Sister of the parish's sisterhood to another. The duties of the Senior Sister have been assumed by Maria Waiskal and the hard work and contributions of previous Senior Sisters — Valentina Tarasenko, Natalia Tregubov, Tatiana Rusiecki — were recognized and applauded.  As those partaking in the trapeza are well aware, organizing a trapeza is among the many duties that the sisterhood take on for the benefit of the parish and no church community would be able to function without the efforts of the sisterhood.
O Saint Sergius, pray for us!