Father Ilya Gun has Reposed in the Lord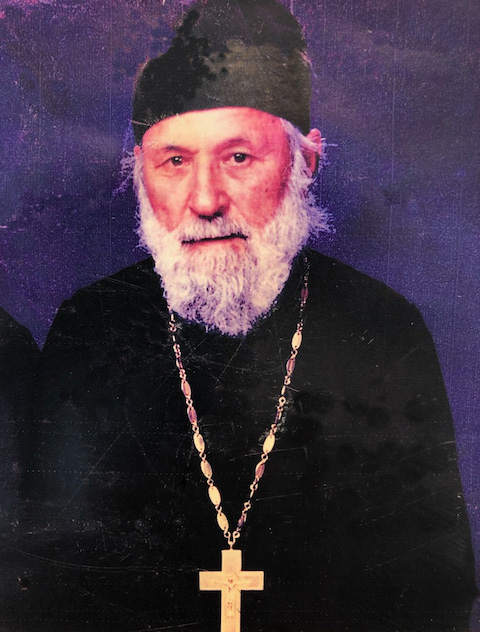 Fr. Ilya Gun was born Ilya Shepeleev on July 20, 1925 in the village of Eski Kazaklar, Turkey, to parents belonging to Old Believers and Nekrasov Cossacks who had resided there for 300 years. His extended family included many priests, and he was always drawn to all things spiritual. At the time of his birth, there were three Cossack villages in Turkey: Eski Kazaklar, the earlier settlement on the southwestern tip of Lake Manyas (later officially renamed Kocagöl), Yeni Kazaklar on the northern shore of Lake Manyas in the Manyas district of Balıkesir Province (founded by a community that had left Eski), and Kazak (on the eastern shore of Lake Akşehir in the Akşehir district of Konya Province).
While keeping their beliefs and Orthodox traditions alive, in newer times, members of this large group of religious emigrants made certain concessions to blend into Turkish society, such as his parents changing their last name to Gün, the Turkish word for "day".
Residents of Yeni Kazaklar had already left Turkey shortly after Fr. Ilya' birth, while Cossacks of his village, Eski Kazaklar, and Kazak held on into the early 1960's, when continuing Islamization of Turkey made adhering to their beliefs and traditions impossible. Most of the 3,000 Eski Kazaklar villagers repatriated to Russia, some emigrated to Australia, Brazil, and other countries in South America. Fr. Ilya' father, after having traveled to (then Soviet) Russia to check out living conditions, had determined that returning to the country of his ancestors was not a viable option agreeable with their religious beliefs, and joined a smaller group of 300 sponsored by the Tolstoy foundation for immigration to the US in 1962. Father Ilya, having had married fellow villager Anastasia, joined with his small family, son Theodore (Ted), the first child to survive infancy after 4 earlier siblings had succumbed to childhood illnesses and general lack of nutrition, and younger brother Jordan (Gordon).
Upon immigrating to the United States, the dots over the letter "ü" were dropped from the family name, making the last name now "Gun". Ted, aged 7 at the time of the move, vividly remembers how Fr. Ilya would walk around the Tolstoy Foundation premises and marvel at all the abundance of available fuel seemingly unnoticed by the local population, thinking of how all these unclaimed riches could have benefited the needy villagers of street-less Kocagöl, where animal-dung-and-straw bricks where the main source of heating material.
Having lived at Tolstoy Foundation first, the family of Fr. Ilya later resided in Mahopac, Poughkeepsie, Somerset and Hawthorne, NJ. While in Hawthorne, Fr. Ilya, whose day job then was at the Nabisco factory in production, became a deacon. He was ordained a priest at age 50. While he never formally attended Seminary, he had a great affinity for all things spiritual and drew on the experience of having had so many relatives and friends who were priests.
At the Mahopac parish, where Fr. Ilya had been rector for many years, he is fondly remembered for his joyful baptism of congregants too big to fit into the baptismal font directly in the nearby lake, standing himself on a wooden jetty. Many recall his great faith, and the quietly powerful effect his prayers had in various life situations.
Upon retiring, Fr. Ilya and Matuschka Anastasia enjoyed their little house in Netcong, NJ, which Matushka had lovingly decorated with numerous handcrafted items, until Matushka Anastasia passed away in 2012.
At age 86, Fr. Ilya fulfilled his lifelong dream of visiting Mt Athos in Greece, impressing his hosts with his tireless prayer and physical feats, such as ascending Mt Carmel on mule-back to reach the church of his Patron Saint, prophet Elias, as well as his general humbleness.
After a short sojourn in the Jordanville monastery, Fr. Ilya returned to live at Tolstoy Foundation for the last five years of his life, self-sufficiently residing in one of the cottages, and attending church services at St. Sergius of Radonezh church.
Fr. Ilya passed away in the evening hours of Wednesday, April 15th, at the Tolstoy Foundation Nursing home, where he had been sent to convalesce after a short hospital stay.