Day 4 of the Concelebration between the STOC and the ROCA –"Poprazdnestvo" (The Afterfeast)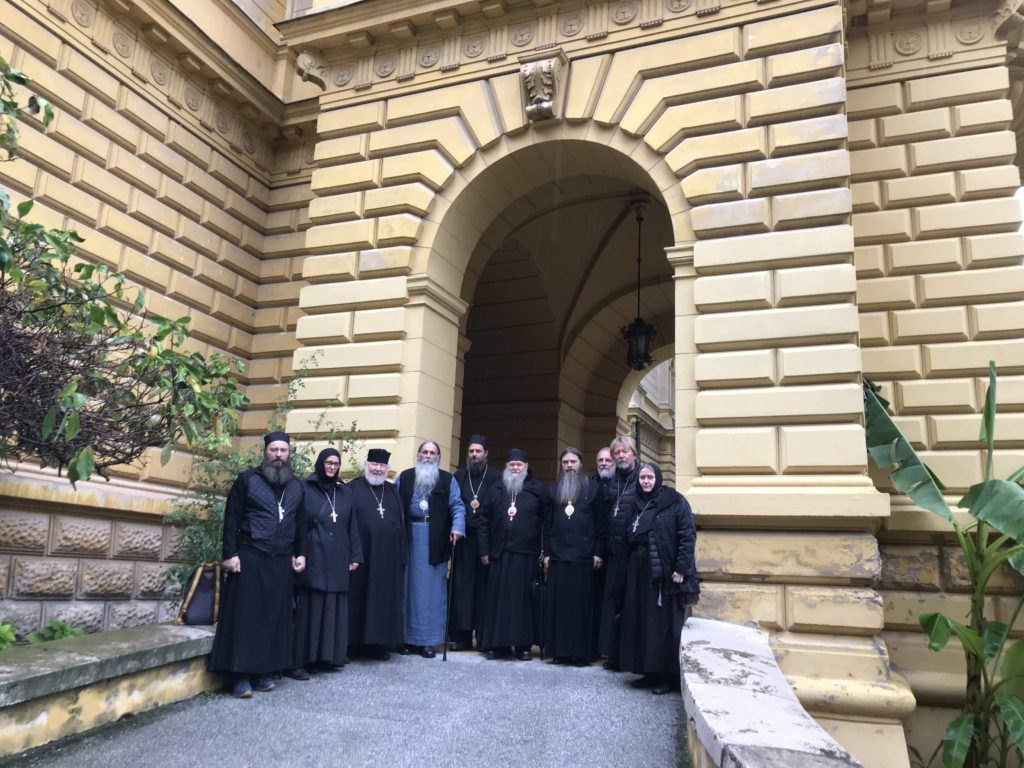 On Monday October 12, 2020 the Russian Delegation visited the town of Sremski Karlovci along with Bishop Akakije and Bishop Nectary. The center of town was once the first physical location of the Synod of the Russian Orthodox Church Abroad, under Metropolitan Anthony (Khrapovitsky). There, the Serbian Orthodox Church, under Patriarch Dimitrije graciously offered their Russian brethren a home and respite during this time of persecution.
This town was not only the residence of Metropolitan Anthony but also of general Baron Pyotr (Peter) Nikolaevich Wrangel. Baron Wrangel was the leading general of the "White Russians" in southern Russia and by the year 1920 was the head of the entire White Russian Army – which was fighting the communist Bolsheviks.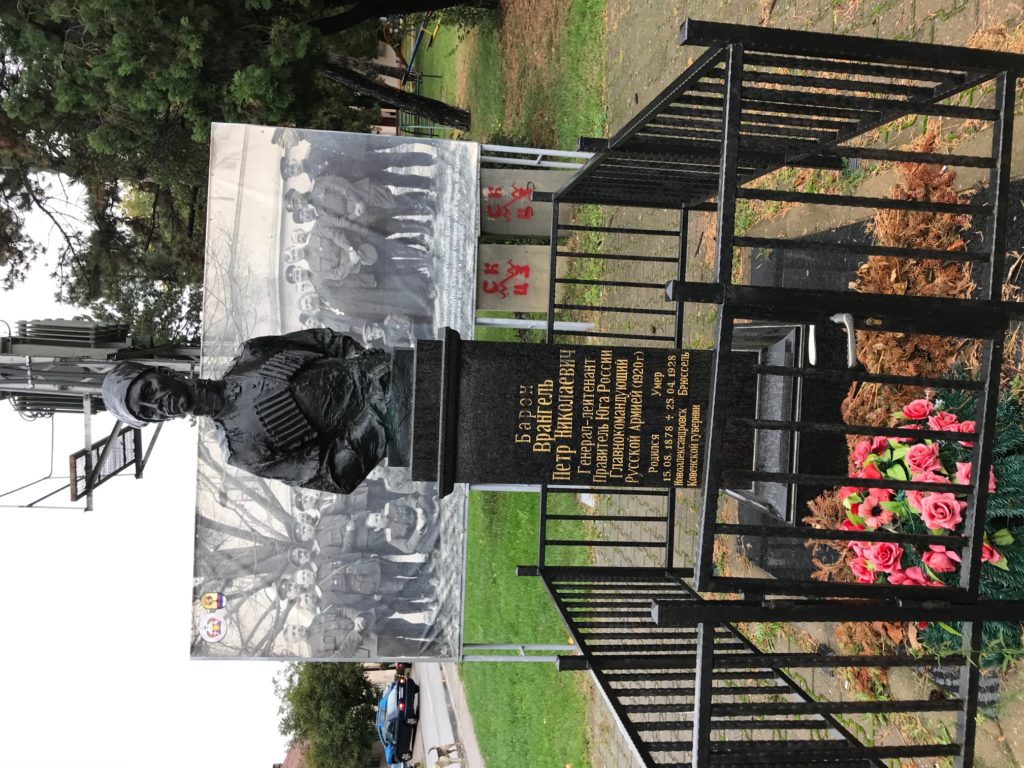 In Sremski Karlovci a church was given to the Russian Orthodox Church Abroad so that ROCA could hold its services in accordance with the traditions of the Russian Church. General Wrangel, however, attended the Serbian Sobor as a regular for Sunday services. Historian professor Aleksey Dimitrievich Arseniev, a well-known guide at Sremski Karlovci, indicated that this was done as a sign of great appreciation to the Serbian nation for its unbound compassion to all Russian emigrants.
At Sremski Karlovci, Metropolitan Anthony reposed in the Lord and was buried in "Novo Groblje" Cemetery in Belgrade. Right afterwards the second Primate of the Russian Orthodox Church Abroad was elected – Metropolitan Anastasiy. Sremski Karlovci was the location of the first and the second All-Diaspora Councils both convened in this historical city.
Before departing Sremski Karlovci, the delegation enthusiastically spoke of the prior day Concelebration. Thus, this Monday after was called the "Poprazdnestvo" (afterfeast) by mitered protopriest Gregory Kotlaroff, indicating the importance of the event that just took place.
That afternoon the delegation arrived at the Novo Hopovo monastery, where the remains of abbess and founder of the Lesna women's monastery – St. Ekaterina (Lesnenskaya) are located. "We Magnify" was sang by all the members of the group to this great monastic who helped restore and, some would say, ignite women's monasticism in Russia and subsequently in Serbia. Her work included the establishing of schools to educate the general population and children's homes for orphans.
In St Nicholas church of the Novo Hopovo monastery are the relics of one of the early martyrs of the 4th century St. Theodore Tyron who was martyred in the year 306 a.d. ("anno domini" meaning "in the year of the Lord"). St. Theodore Tyron is commemorated on the 17 of February and on the 1st Saturday of Great lent.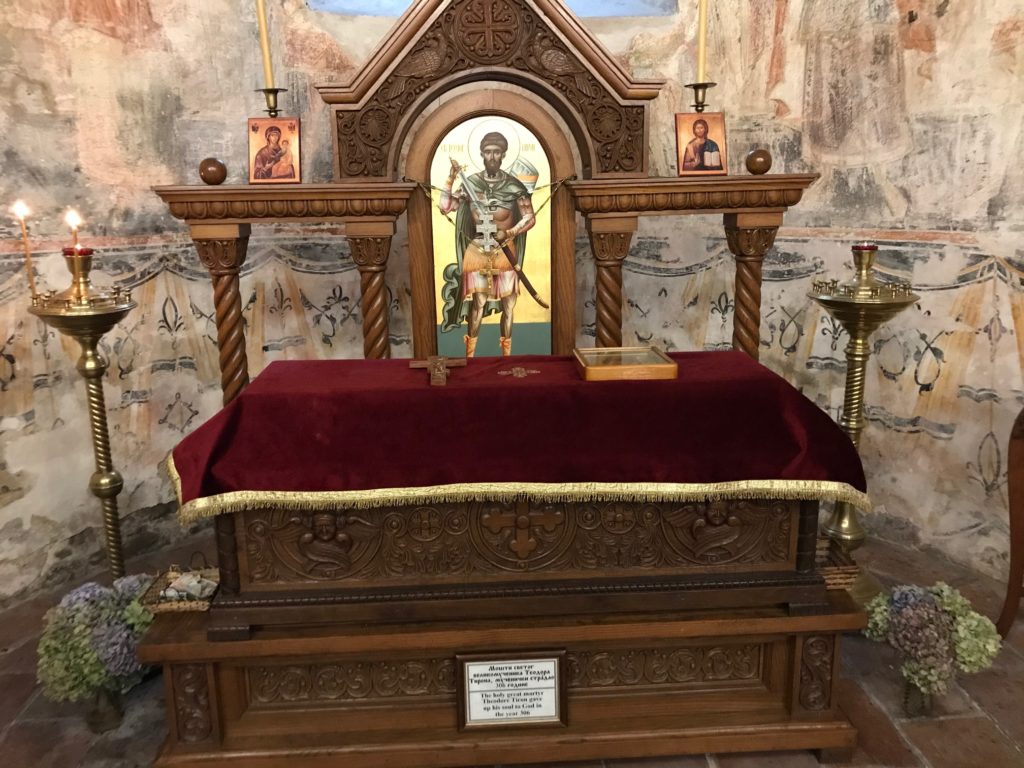 The group then left for the women's monastery known as "Grgeteg". The icon of the Mother of God "Troeruchitsa" (Three-handed) is venerated to the left of the church as you walk in. "It is Truly Meet" was sung to the icon.