ALTHOUGH I DIED, I – LIVE… In memory of Saint John of Shanghai and San Francisco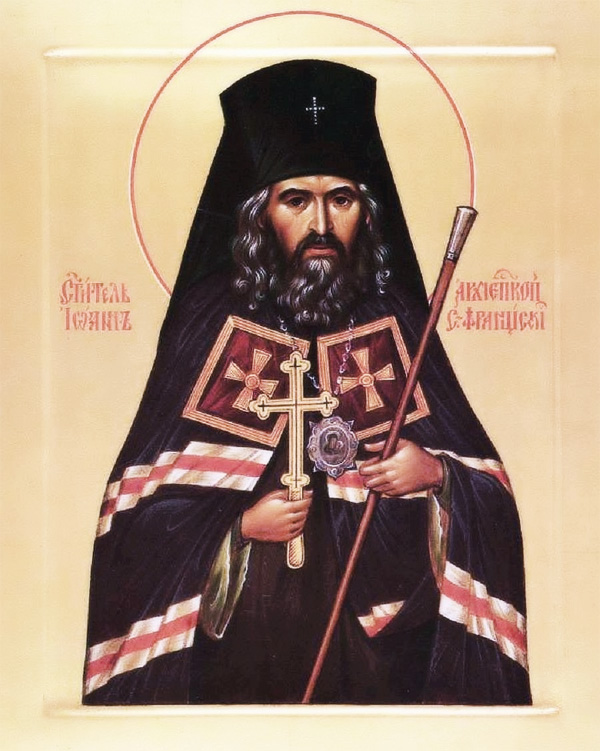 This glorious Saint was canonised by the Russian Orthodox Church abroad on the 2nd July 1994. The very important difference from the host of Saints of the Orthodox Faith is that Saint John was our contemporary. From the moment of his demise to – let's say, up to the moment of the birth of many of us, only a few years had elapsed… To fully grasp this with our minds is unimaginable: to feel with our heart is possible. It is as though the times of Holy Russia had suddenly returned to us, as proof that "Jesus Christ is the same yesterday, today and forever" (Heb. 13:8).
Today, it's quite pertinent to remember that our contemporary Miracle Worker John of Shanghai and San Francisco, died just half a century ago in 1966 i.e. all too recently.
FROM MAKSIMOVICH ANCESTRY
Archbishop John (Michael Borisovich Maksimovich) was born on the 4/17 June 1896, in the village of Adamovka, Harkov District, and upon baptism given the name of Michael – in honour of Archangel Michael. The future Vladika was a descendant from the Russian Maksimovich nobility (which also included Saint John of Tobolsk).
In his childhood, Michael was outstanding in his religiosity: standing for long periods in prayer during nights: collected icons as well as religious books. Above all else, he used to love reading about the lives of Saints. The holy and righteous life of the child produced a profound impression on his French Catholic governess and as a result, she converted to Orthodoxy. At 11 years of age, he enrolled in the Petrov Poltava Cadet Corps, which he later recalled throughout his life with great fondness. Upon graduation in 1914, the youth wanted to study in the Kiev Spiritual Academy, but upon his parent's insistence, he enrolled in the legal faculty of the Harkov University, where he graduated in 1918. During these years, Michael's spiritual mentor was the renowned Archbishop Anthony (Khrapovitsky) of Harkov.
During the years of revolutionary persecutions, the Maksimovich family migrated to Belgrade, where the future Saint enrolled in the theologian faculty at the university. In 1926, the head of the Russian Overseas Church, Metropolitan Anthony (Khrapovitsky), tonsured Michael with the monastic name John – in honour of his forebear , Saint John of Tobolsk, who was a Metropolitan and renowned Church activist in the 18th century. In 1929, he was elevated to Hieromonk. The tonsure took place in the Milkov monastery, the only one in Serbia to have a Russian charter and Russian monks. The head of the monastery was Archimandrite Ambrose (Kurganov), the last spiritual child of the Elders of Optina. In Serbia, the young Hieromonk John was predominantly engaged in lecturing in Serbian seminaries or as the Serbs called them, "theologicals".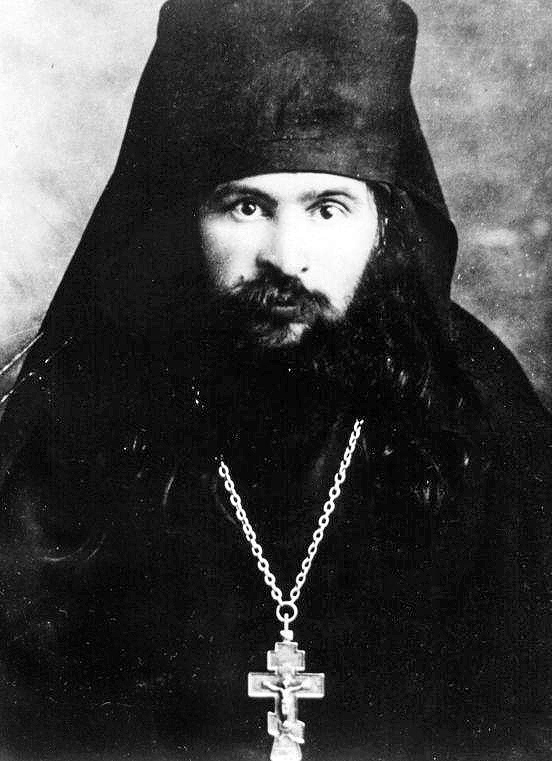 Even at that time, the Serbian Golden tongue Bishop Nicholas (Velimirovich), gave the characteristics of the young Hieromonk as: "If you want to see a live Saint, go to Bitol to Father John".
Father John fasted strictly: served Divine Liturgy every day and partook of Holy Communion: from the day of his tonsure, he never laid down and sometimes they would find him in the morning on the floor before the icons, having fallen asleep. His meekness and humility were reminders of the immortalised practices in the lives of the greatest ascetics and hermits. Father John was a rare practitioner of prayer who immersed himself so deeply into prayer that it seemed as though he was conversing with the Lord, Mother of God, the Angels and Saints, as if they were there before his spiritual eyes. Events in the Gospel were so well known to him that it appeared as though they occurred before his very eyes. In 1934, Hieromonk John was elevated to the rank of Bishop, after which he left for his future service in Shanghai. Metropolitan Anthony (Khrapovitsky) spoke of him: "This small and feeble person, visually nearly a child, appears as some sort of miracle of ascetic stoicism and strictness: mirror of ascetic firmness and strictness in our times of spiritual debilitation".
BISHOP of SHANGHAI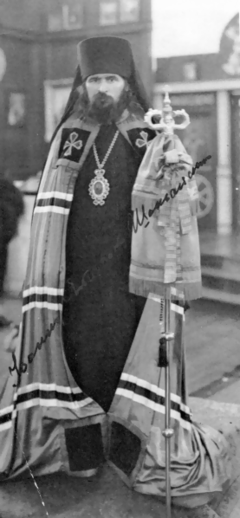 In Shanghai, the young Vladika loved to visit the sick and did this daily, accepting Confessions and giving Holy Communion. If the patient's situation was critical, Vladika came to him/her any time of day or night, and uttered lengthy prayers by the bedside. There are many instances of terminally ill people being cured through the prayers of Saint John.
His inexorable faith in Christ is especially demonstrated in the following event as described by Fr.Skopichenko: "Mistress Menshikov was bitten by a rabid dog. The prescribed course of injections was either refused or was not carried out properly… and she became ill with a frightening sickness. When Vladika heard about this, he came to the dying woman. After he gave her Holy Communion, she experienced a seizure and began to emit frothy saliva and spat out the recently consumed Holy Gifts. But as the Holy Mysteries cannot be thrown out, Vladika gathered and swallowed Them, which the woman spat out. Those that were with him exclaimed: "Vladika! What are you doing?! Rabies is extremely contagious!" But Vladika quietly replied: 'Nothing will happen – they are Holy Gifts'. And indeed, nothing happened".
During the Japanese occupation, it was frightening to come out into the street, especially for Vladika as he assumed the President's post after 2 former Presidents of the Russian colony had been executed. However, the Saint paid no heed to this and continued to visit those who needed him at any time – night or day, whenever he was called. And what is remarkable is that he was never troubled by the authorities.
With the advent of Communists gaining power in China, the Russian immigrants were force to flee. A camp was established for the Russian refugees on Tubabao – an island in the Philippines, where Vladika resided with his congregation. In 1949, the temporary camp held some 5000 Russians that have abandoned China. This island was sparsely populated and was situated on the path of seasonal typhoons. However, in the 27 month existence of the camp, it was threatened only once by a typhoon, which changed its course and went around it. When one Russian in a conversation with Pilipino dwellers expressed his fear of typhoons, the locals told him there are no grounds for this fear inasmuch as "your holy man blesses your camp every night on all four sides". In spiritually nourishing and supporting his destitute flock, Saint John fervently prayed for them. He was able to arrange with the United States authorities to resettle the Russian refugees in America. Upon the amendment of American laws to allow this to happen, a large number of immigrants relocated to the USA, while the rest travelled to Australia.
SAINT JOHN the BAREFOOTED
In 1951, Saint John was appointed as Archbishop of Brussels and Western Europe, and his cathedra was situated in Paris. Not forgetting his Russian flock that had been to Heaven and hell, Vladika accepted under his jurisdiction, the local Dutch and French Orthodox Churches. While in the past he served Divine Liturgy in Belgrade in the Greek language, now he serves in Dutch and French languages.
As in Europe, when Vladika moved to San Francisco in 1962, his fame likewise spread among the heterodox population. A priest from one of the Paris Catholic churches attempted to inspire the adolescent with the following words: "You demand proof and you declare that today there are neither any miracles nor Saints. Why should I give you theoretical proof when today, walking the streets of Paris, is Saint John the Barefooted (Saint Jean Pieds-Nus)".
Saint John received this name because he was always walked in bare feet – even on the cruel gravel of the Versailles Park. After receiving an infection caused by a cut on his foot from broken glass, he was prescribed to wear shoes, which he did… under his armpit. In due course, he was directed to wear shoes. Archbishop John often served in church barefooted, which created a bewilderment among the priests. However, his every action had a deep inner meaning and emanated from a living sensation from God's presence. Inasmuch as Prophet Moses heard the Lord speak: "Take off your shoes from your feet, for the place where you stand is holy ground" (Exodus 3:5), Saint John with his bare feet showed that all the ground has been consecrated by Christ's footsteps, and in any place we stand before the Living God.
Vladika was well known throughout the whole world and was highly respected. In Paris, a train was held up by the dispatcher for the arrival of the "Russian Archbishop". All the European hospitals knew about this Bishop who was able to pray all night for the dying. He was called to the bed of the gravely ill – be it a Catholic, Protestant, Orthodox or some other Faith, because when he prayed, God was merciful.
As an example, this is what Mrs. L. Lieu related: "My husband was in an automobile accident in San Francisco and was badly injured: he suffered terribly. Knowing the power of Vladika's prayers, I thought: 'If I could invite him here, my husband would get well'. Two days past when suddenly Vladika arrives, and spent just 5 minutes. It was at the most serious moment in his suffering, and after this visit, there was a sharp turning-point, and shortly after, he was completely healed. Later, I met Mister T, who said that he was driving Vladika to the airport when suddenly Vladika says to him: "We must now go to Lieu". When he objected that he will be late in arriving at the airport and that he cannot turn around this minute, Vladika said: "Can you take upon yourself another person's life?"
Here is another occurrence. There was a servant of God Alexandra confined in a Paris hospital. Vladika was informed about her. He handed a message saying that he will come and give her Holy Communion. Lying in a general ward where there were approximately 50 patients, the woman felt unease before the French women because an Orthodox Bishop wore unbelievably worn attire, as well as being barefooted. After she received Holy Communion, her neighbouring French woman patient said to her: "How lucky you are to have such a spiritual father. My sister lives in Versailles, and when her children become ill, she sends them out into the street where Bishop John walks and to ask for his blessing. Upon being blessed, the children are cured instantly. We call him a Saint".
 Once, when Archbishop John was in Marseilles, he decided to serve a panihida on the same site where the Serbian King Alexander 1 Karageorgevich – patron of Russian immigrants – was brutally murdered in 1934. Due to their mendacious shame, not one of the clergy wanted to serve with him. Vladika went alone. The citizens of the city were astounded to see a cleric in extraordinary attire with long hair and beard, walking along the street with suitcase and broom. In seeing this, the photographers commence to photograph him. In the meantime, Vladika stopped, swept clean a small section of the footpath with his broom, opened his suitcase, placed the Bishop's orlets on the swept area, lit the incense burner and began the Service.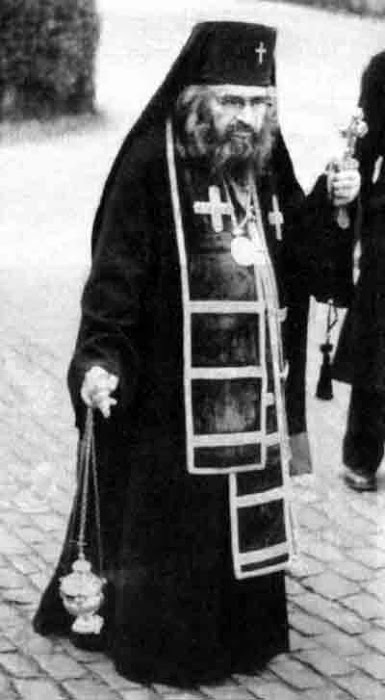 He was in constant prayer and served Divine Liturgy daily (few would be able to endure such a regimen and that's why Vladika often conducted the Service alone – read and sang all the requirements of the Liturgy): had Holy Communion daily and fasted strictly – ate only once a day late at night, and ate only prosphoras during Christmas and Great Lents. There are many witnessing examples of the Saint's strict fulfilment of Church prescripts. His renowned "decrees" contain much enlightenment. They exude grace and strictness, integrated with Vladika's wisdom. Vladika John's Orthodoxy was uncompromising; in part, despite his mercy to everybody without exception, he stood up sharply against ecumenism.
Despite Vladika's usual strictness, children were totally devoted to him. There are many touching instances how the Saint knew through inexplicable reasons, where there was a sick child, and went to him/her to comfort and heal. Receiving revelations from God, he saved many that faced oncoming calamity, and also appeared to those where his presence was imperative, even though such physical transposition seemed impossible.
Today, in an era of total penetration of informational space, the Orthodox world has become subject to deformation from without. In part, this pervasion became a type of humorous game of cult-celebration. And it's here that it's important to note Saint John's attitude toward this, as he expressly lived in the Western world and defended Orthodox piety by not allowing any deviation – even through weakness.
When Vladika found out that on the eve of the commemorative day of Saint John of Kronstadt, the parishioners where amusing themselves at a ball because of "Halloween", he went to the ball; walked around the hall glancing at the participants without a word – much to their astonishment and shame, and silently left the ball. The morning after, he released the following decree: "On the unallowable participation in entertainment activities on the eve of Sunday and Church Feast day Services", which stated: "The Holy Rules pronounce that the on the eve of Feast Days, Christians are to spend their time in prayer and worship, preparing themselves for participating or attending Divine Liturgy. If all Christians are called to this, more so to those that directly participate in the Church Service. Their taking part in such amusements on the eve of such Holy Days is especially sinful. In view of this, those that do attend a ball or some other type of entertainment cannot, the following day, take part in the choir, enter or serve in the Altar, or stand on the podium".
Vladika John foresaw his demise. On the 19th June (2nd July in the new calendar) 1966, commemorative day of Apostle Jude, and during his visit to the city of Seattle with the Miracle-Working Icon of Mother of God of Kursk-Root, Protector of the Russian Émigré – this great Saint departed to the Lord.
After Vladika's death, one Dutch Orthodox priest with a contrite heart wrote: "I do not have or will ever have a spiritual father who would phone me in the middle of the night from another continent and say: 'Now go to sleep. That, which you were praying for you will receive'".
The 4 day vigil over the body concluded with a requiem Church Service. The Bishops conducting the Service for the departed couldn't withhold their sobbing. Remarkably, even with all this, the Cathedral was filled with a hushed joy. Witnesses remarked: it would appear that we were attending not a funeral service but the opening of the relics of a newly acquired Saint.
The Saint was interred in a crypt in the San Francisco Cathedral, named in honor of the Icon of Mother of God "Joy For All Sorrowers". Soon after, miracles of cures and help in earthly matters began to occur in Vladika's crypt. Thousands of people throughout the world revere Vladika John as a great Righteous Saint and turn to him with fervent prayers, seeking his help and solace with their spiritual and physical  sorrows.
Translated by Seraphim Larin